Christel is an Emmy-Nominated and Award-Winning Journalist, who has Made a Mark in Broadcast News. An Interview With FOX4 Evening News Anchor, Christel Bell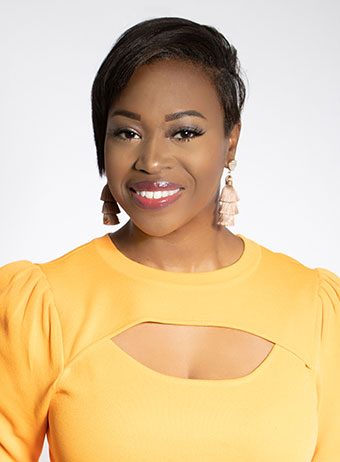 Q: While in high school, did you have any idea you wanted to go into broadcasting?
CB: I started visiting the idea of a career in broadcasting around 10th grade. My reading teacher (Ms. Turner) gave the assignment of reciting Dr. Martin Luther King's "I Have a Dream" speech. I remember being the only one in my class who recited the entire speech and I remember the adrenaline I felt when standing up in front of the class saying that speech. This moment helped me discover my gifts and talents, and Ms. Turner recognized it too, because soon after she started entering me into different contests which in essence jump started my oratorical career which allowed me to explore journalism. 
Q: How did your career start as a news anchor?
CB: My first job out of college was a part-time production assistant for a station in Houston. I did that for two years; I spent a lot of time getting to know the reporters and going on stories with them to get a resume reel. I studied the anchors and their on-air presence. How they treated people off-air as well. I was responsible for handling the teleprompter, and sorting scripts for anchors, but I went to work dressed as if I was a News Anchor. I thought if all the anchors couldn't go on- air that day, I would be ready to step in. I was ready, even though I knew it would never happen, it helped me be prepared and it was my manifestation that I would be an anchor one day. 
Q: Tell us about your launch of Authenticity Needs No Apology.
CB: A.N.N.A. is about finding your true voice in a loud world. It's about helping women and young people find the beauty in being authentic. I tell people often when you walk into a room there's no need for you to apologize for being you. Speak your truth, live in your truth. I think it's a life lesson I had to understand myself after being on TV news for so long. I'm genuine on-air, people connect with authentic people. So, I've created affirmations for my t-shirt line that help people wear and speak their truth and be authentic.
Q: How did you prepare for your first news anchor job?
CB: I was working at a small TV station in east Texas. They had no one to anchor the weekend newscasts. I said I could do it. I remember being so nervous my first time on-air. I soon after began filling-in. 
Managers informed me that they were looking to hire an anchor. Honestly, I was upset, because I thought, 'how am I good enough to fill-in, but not good enough to have the permanent position?' I knew that anyone hired would have to undergo training with me. So, I decided to shoot my shot. I asked to meet with managers, and sold myself, as to why I was the best candidate for the job, and soon after I was promoted to anchor. 

Q: How did you feel when you were honored as an outstanding woman in media?
CB: I was shocked, humble, and grateful. It's truly an honor. I love what I do and for me it's not about awards and praise. I just want to make a difference, I set a goal, to use my voice to impact change. 
I feel so blessed to have this platform; I will never take it lightly. I'm grateful for the stories I've covered, and the hope that I bring into people's homes and lives. There are so many great women in media, I know a lot of them!
Q: How do you handle difficult or emotional stories?
CB: I think back in the day when covering a news story, it was often frowned upon to show emotion, to have empathy, but I've cried on-air. I'm compassionate, and I'm real. At the end of the day, I'm human and I feel like it's okay to show emotion. But, on those tough news days I find solace in my faith and through prayer. I try to unplug, watch a lot of comedy shows, and I journal. I also talk about it, usually with my mom on my drive home from work. 
Q: Giving back to the community is important to you … can you share with us some of the projects you've been involved in?
CB: Absolutely! I recently was selected to serve on the Board of Directors for Jackson County CASA, a non-profit that advocates for the best interest of children who are in the Jackson Co. Family court system until they have a safe and permanent home. I serve on the board for Cristo Rey KC High School. I work with Friends of Yates, a non-profit organization that helps survivors of domestic violence. I also worked with Neighbor to Neighbor, a non-profit organization that provides transportation and companionship to seniors. I've volunteered with Giving the Basics, a non-profit that helps and provides basic needs and toiletries to those in need. 
Q: Have you ever had that the one embarrassing moment on TV you can share with us? 
CB: I've had so many embarrassing moments, that I have lost count! I've said the wrong words, called co-workers by the wrong name! I've done it all. But one thing I love about this business is every day is a new day. I laugh at myself, dust it off and keep going. 
Q: Tell us how you manage your work life balance with your busy schedule.
CB: I write everything in my calendar. I have not upgraded to using my phone. I like to write down everything in my planner. If it's not on my calendar or my 'to do' list, it won't get done, and I'm okay with that. It's how I keep my peace and not stress about the things I can't get done. 
Q: What's the most interesting thing about you that we wouldn't learn from your resume alone? 
CB: I studied abroad in Cuernavaca, Mexico as part of a Spanish Emersion Program. I was fluent in Spanish, but I came back to the U.S. and became intimidated by others when trying to speak Spanish. 
Nineteen Things About Christel Bell

1. What celebrity would you like to meet at Starbucks for a cup of coffee? 
Tamron Hall
2. What's your favorite thing to do in your free time? 
Hang out with my family
3. What's the most amazing adventure you've ever been on? 
Whitewater rafting in the Smokey Mountains
4. Who is your favorite author? 
My Mother, Queen E. F. Phillips
5. What TV shows did you watch when you were a kid?
Family Matters
6. What's the most spontaneous thing you've done? 
Tongue piercing -don't ask LOL
7. What's your favorite quote or saying? 
"Giving myself grace."  
8. Are you a morning person or a night owl? 
Night owl 
9. What would your perfect vacation look like?
Bora Bora
10. Favorite Dessert? 
Nothing Bundt Cakes
11. Tell me about the best vacation you've ever taken. 
Montego Bay, Jamaica (it's where I got married)
12. Do you read reviews, or just go with your gut? 
Read reviews
13. What is your favorite game or sport to watch and play? 
To watch: basketball To play: volleyball
14. Which of the five senses would you say is your strongest? 
Nose (I can smell everything)
15. If you could go back in time to change one thing, what would it be? 
Graduate from HBCU. I started my undergrad at Xavier University (New Orleans, LA) but for financial reasons I had to leave. 
16. What were you like in high school?
I was cool, I played sports, was on the debate team, and was senior class president
17. What would your perfect Saturday be like? 
Doing absolutely nothing, lounging around with a good book, or a good movie
18. Would you rather cook or order in? 
Order in
19. Cake or pie? 
Cake