Helping One Person At a Time Live a Healthy Life! Owner & Master Trainer of His & Her Fitness, Christina Larson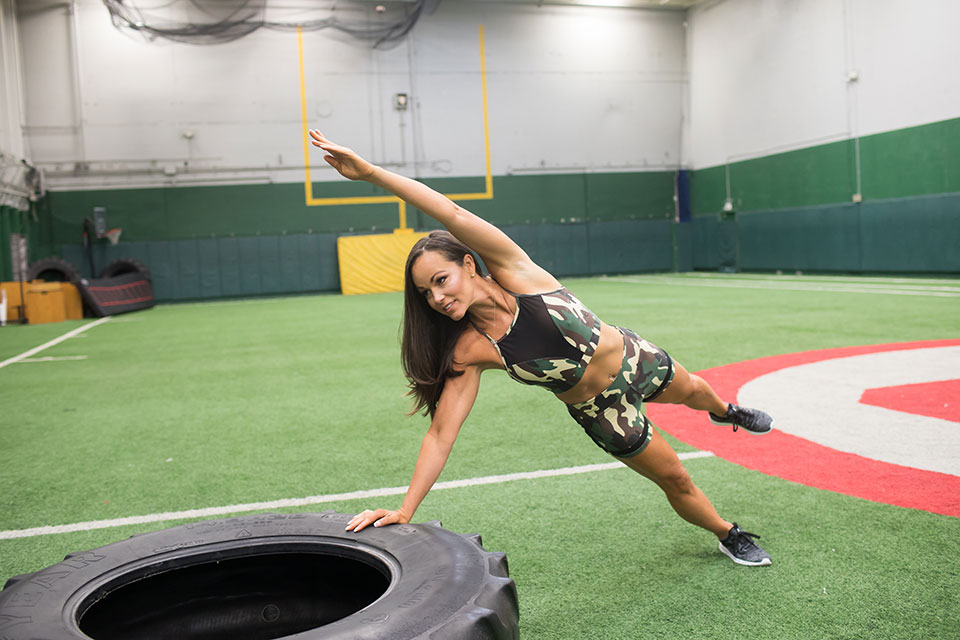 Q: So, before we jump into specific questions, why don't you give us some details about yourself and your story.
CL: I was a college soccer player and cheerleader. I tore my ACL from being over trained. That's the foundation that led me wanting to prevent injuries. I shifted the last semester to RN school to become a personal trainer. I then designed His & Her Fitness at 21 years old and today it's everything and more. Helping one person at a time live a healthy life.
Q: Was fitness important to you growing up?
CL: Absolutely, my Dad said "do things that make you feel good" so from there I enjoyed running in the mornings. My stomach didn't like fried foods so I could only eat clean meats. I fell in love with lifting but was often the only woman in the gym … that eventually led me to being recruited in college for cheerleading and soccer.
Q: What are some of the reasons why an individual would need a personal trainer?
CL: Personal training is perfect for an individual that has an education from high school on proper lifting techniques. This formal education not a general workout for health, but generally designed workout for sports. I have worked with over 4,000 individuals designing a program specific to their lifestyle including proper creative cardio that can be done from home or even at a kiddos practice, combined with lifting program, and ideas on meal plan that fits the life style. 
Q: What has been the most satisfying moment in business? 
CL: Seeing thousands of clients lose body fat and feeling good in their new and improved bodies.
Q: What are some changes you've made due to covid-19?
CL: Grateful that we have always had a high standard for cleanliness. We incorporated masks before it was mandated for everybody. Also, when a customer walks in the door we spray their feet, and we ask them to wash their hands. We have a dedicated space for their belongings that also gets cleaned every hour. We vacuum and mop the floor everyday. The equipment is all spaced so the customers have their proper space provided so they can be social but at a distance. 
Q: Do you have future plans you can share with us?
CL: Absolutely, 17 years of business there's always something progressing you will be the first to know. We are launching a 30 minute creative cardio every week. Also, we have yoga and boxing lessons coming as well! Follow us on Facebook @his & Her Fitness on Instagram @his_her_fit to be the first to sign up. 
Q: What advice would you give to young women who want to pursue?
CL: As a female entrepreneur everything you hear is true about our continuous struggles. But the appreciation and respect that is earned keeps the fuel to my fire. See those good things keep building.
Q: What's one lesson you've learned in your career that you can share with the audience?
CL: Stay a boss and don't let go of that because if it was easy everyone would want to do it. 
Q: What are some of the challenges you feel women face today?
CL: It still surprises me that some people have a tough time with a female boss. A few times I have had men communicate what I said, and it worked. 
Five Things About Christina Larson 

1. If you could trade lives with someone who would it be?
A mom working with kids! I love that ability to manage your kids are a blessing and work. My moms that do this inspire me. My grandma being one of them 3 daughters, Grand Kids, and great grand kids still crushing it in her 80s. 
2. What accomplishments are you most proud of?
Starting my business in 2004 at 23. I owned my home car and did this with all my savings money. Consistency was a big goal for me. Grateful everyday.
3. If you could be friends with a celebrity who would it be and why?
Kendra Scott is still humble & humanitarian, even with success. The community engagement is beyond any company I have worked with. During quarantine I personally called or emailed every business we work with in community. Her team reached back during uncertain times this just shows how amazing this leader is. 
4. What app can't you live without?
Started my business with letters, thank you cards in the mail, and phone calls. I would have to say the contacts app.
5. Do you have any hobbies?
Yes, I do. I enjoy golfing, reading, fitness comps, time with my nieces and future step kiddos, 5k s, adventure hikes and rock climbing.