Off Camera, She Enjoys Spending Time with family & friends, Traveling the Globe & Cheering on her Favorite Sports Teams, Meet FOX4 News Reporter, Kerri Stowell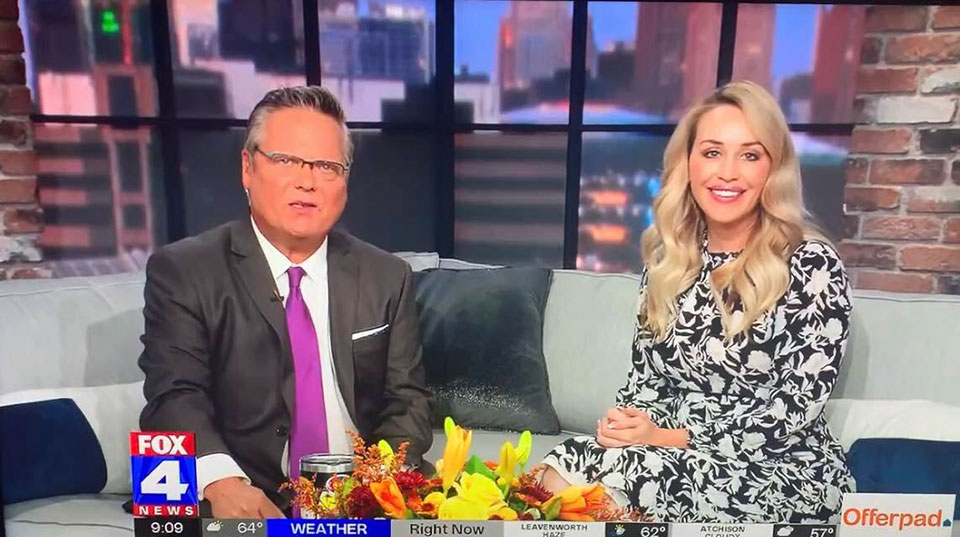 Q: What inspired you to study broadcast journalism?
KS: When I was in high school, I took a broadcast journalism class called OGTV. It was my favorite class! One day, we took a field trip to KCTV5 in Kansas City. I was watching the anchors in the studio transition from a commercial break to an on-air segment and thought, "I can get paid for this?!" I loved my high school TV class, and in that moment, decided to pursue broadcast journalism as a career. 
Q: What is your favorite thing about your job?
KS: I love meeting our viewers! They're the reason we're here every morning, so meeting someone who loves our team as much as I do is a reminder that the early morning wake-up call is worth it.
Q: How did you prepare for your first anchor job?
KS: I graduated from the University of Missouri-Kansas City with a degree in Communications, emphasis in Media Studies. During my time there, I earned internships at KSHB-TV in Kansas City, KSNT-TV in Topeka, Kansas, and an independent cable operation in Olathe, Kansas. I credit my time at UMKC and three internships with giving me the tools I needed to prepare for my first anchor job.
Q: What is the most challenging part of being a traffic anchor?
KS: Waking up at 3:30am for work! I love my job, so once I'm here and have a cup of coffee, I'm awake for the day. But getting out of bed when my alarm goes off, especially when it's snowy outside, can be challenging.
Q: Giving back to the community is important to you … can you share with us some of the projects you've been involved in? 
KS: I'm currently serving as a Board Member for the FOX4 Love Fund for Children. The Love Fund helps thousands of children every year by fulfilling unmet needs, such as medical equipment, clothing, school supplies, etc. I would encourage everyone to consider donating to the FOX4 Love Fund for Children to help make a difference in our community. 
Q: Do you have any advice you can share for those women who may want to pursue a career in Broadcasting? 
KS: Take advantage of as many internships as you can. Spending time at different TV stations helped me figure out which area of broadcasting I wanted to pursue. Plus, there's a lot to be said for "It's not what you know, it's who you know." I regularly cross paths with mentors I shadowed as an intern.
Q: What's the most interesting thing about you that we wouldn't learn from your resume alone? 
KS: I'm an introvert! You would never know it by looking at my resume because I've been on-air my entire career and regularly emcee events. But behind the scenes, I'm most comfortable in small groups or alone. 
Q: Tell us how you manage your work life balance with your busy schedule.
KS: My work-life balance starts and ends with sleep. I don't ever want to feel like I'm missing out on time with family and friends because I have an early bedtime. Naps, lots and lots of long naps, help me get through the week.
Fourteen Things About Traffic News Reporter Kerri Stowell

1. What was the last book you really got into? 
Verity by Colleen Hoover
2. Among your friends, what are you best known for? 
Going to bed early! My alarm clock goes off at 3:30am, so I'm usually in bed before the sun goes down.
3. Who is your favorite author? 
Brene Brown – I've learned so much about myself by reading her books.
4. What's your favorite app on your phone? 
I spend way too much time scrolling through pictures and memes on Instagram.
5. What TV shows did you watch when you were a kid? 
Saved by the Bell was on my TV every day after school. I loved the show so much, my mom drove me to the KC Auto Show at Bartle Hall to meet Mark-Paul Gosselaar when I was in 5th grade. He was there to meet fans and sign autographs.
6. Are you a morning person or a night owl? 
I used to be a night owl, but working on the morning show has turned me into a morning person.
7. Favorite Dessert? 
All things Chocolate!
8. Favorite City? 
New York City - My favorite city tends to change by the year, so ask me again next year to see if I have the same answer.
9. Do you read reviews, or just go with your gut? 
I'm obsessed with reviews! Especially Yelp's restaurant reviews with pictures. I like to see what my meal is going to look like before I order at a restaurant.
10. What would you sing at Karaoke night? 
Anything by Bon Jovi! 
11. What is your favorite game or sport to watch and play? 
I'll never miss a Kansas City Chiefs game!
12. Would you rather cook or order in? 
I'm not a very good cook, so it's better for my fiancé if we order in.
13. What was your favorite subject in school?
English
14. Cake or pie? 
Chocolate Cake