Sharing Her Commitment To Empowering Women & Girls. A Special Conversation With Water.org Chief Operating Officer, Vedika Bhandarkar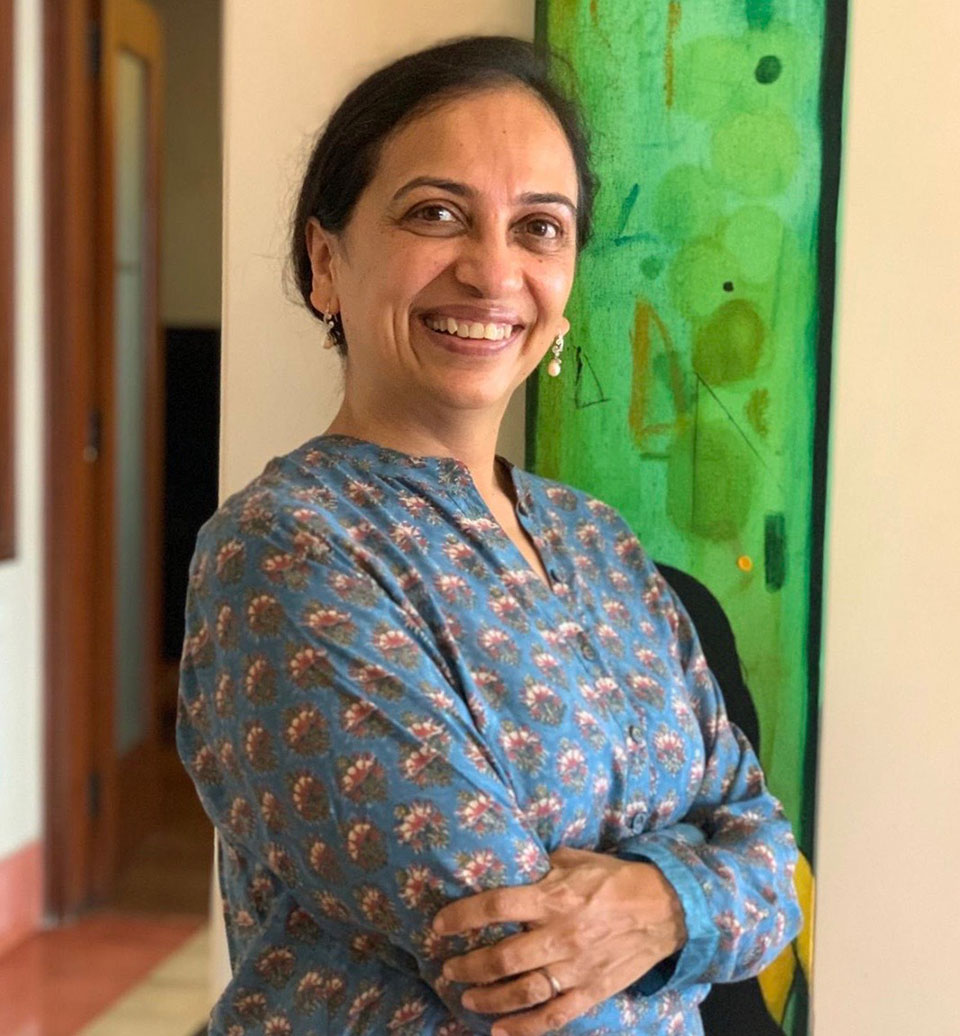 Q: Vedika, can you give us a few highlights about your career and how it led you to being so passionate about clean water?
VB: When I worked in the corporate world, my personal giving was always focused on improving the lives of women and girls. In donating to programs focused on their empowerment, I quickly recognized that the effects of the global water crisis kept many women and their daughters trapped in a cycle of poverty. Recognizing this, I found symmetry in the work of Water.org as it related to my philanthropic focus and my professional experience. I worked with large sums of money in investment banking. Conversely, Water.org was making a tremendous difference in the lives of women and girls through small loans for water and sanitation solutions. Intrigued and inspired, I wanted to apply my knowledge in finance to help the organization increase access to these loans to empower women and girls with the safe water they need to survive and thrive in life. 
While the water crisis impacts everyone across the global, it has a unique impact on women. 

Q: Can you share how lack of clean water resources impacts women in particular?
VB: For many people living in poverty, it's expensive to not have access to water or a toilet. The reality is, in many countries around the world people in poverty pay a very high price for these things. They pay for water from a truck that delivers it to their slums and villages every day, or they pay healthcare expenses that arise from water-borne illnesses because they don't have safe water to drink or a place to go. There are also coping costs–time spent collecting water, missed school, and time not earning an income. These coping costs are borne almost entirely by women and girls. They spend hours a day collecting water–hours they are unable to look after their families or attend school or engage in a job which could improve their family's future. Some girls drop out of school to help their mothers collect water.
Q: What is the mission of Water.org and how is it working to address the lack of clean water resources?
VB: Water.org is a global nonprofit organization working to bring safe water and sanitation to the world. We want to make it safe, accessible, and cost-effective.
We help people get access to safe water and sanitation through affordable financing, such as small loans. We give our everything every day to empower people in need with these life-changing resources – giving women hope, children health and families a bright future.

We understand that in some cases, even if there is a clean water solution available for women, they still can't afford it. 

Q: How do microloans work to address this?
VB: Millions of people know exactly what they need in terms of safe water and sanitation solutions, but they lack the necessary funds to get those resources. This is why we do what we do at Water.org.
We work with banks and other lending institutions who enable people living on less than $6 a day to get access to small loans for water connections and toilets. Together with our lending partners, we empower families living in poverty with the opportunity to finance water taps and toilets. We do this by making upfront capital at affordable terms an option for them. Financial inclusion for this demographic means families in need get access to the money they need to construct a toilet, a water tap, or in some cases, they may work with their local government to get a water or sewage pipe connection to their home.

Q: Do you feel that the pandemic further impacted women in water challenged areas? 
VB: Yes. Women and children are usually responsible for the task of water collection. Vessels in tow, they may walk a mile or more to a community well or common water stand. In doing this, they often have no choice but to wait in long lines hoping there is enough water left for them. Women: wives, mothers, daughters are then exposed to COVID-19. And though they may wear face masks, they walk potentially miles, making several trips to get the water their families need to survive. Upon return the reality is this water may not be prioritized for handwashing. After the labor required to achieve it, the priority will be that their children remain hydrated and that their food be prepared to prevent starvation.
COVID-19 is not the first and will not be the last health crisis the world will face. Resilience to future crises depends on actions taken now, as well as on policies, institutions and capacity put in place during normal times.

Q: How can women here in the U.S. get involved with making a difference in the lives of other women around the world?
VB: The advocacy and more importantly, the philanthropy, of women in the U.S. can help drive change for women living in poverty. With your support, we can help women and families in need get access to small loans through our local, partner financial institutions so they can pay for the upfront costs of establishing lasting water connections and sanitation solutions. This approach is sustainable, it is empowering, and it changes lives long-term.
Q: What's the greatest fear you've had to overcome to get where you are today? 
VB: When you're offered a new opportunity, you have no ability to be fully prepared to take on the challenges that may come with it. I prefer to always be prepared. This is something I must work through. I set my bar high. I require a lot of myself. I always want to do my best. It is difficult for me to engage in a role or situation where I don't know everything. It has been in recognizing this about myself, in admitting it, that I've overcome those expectations of myself. It is liberating to acknowledge this about myself as it frees me to accept more opportunities knowing I can draw upon the knowledge and experience I do hold to carry me through the unknown.
Q: Can you tell our audience one of your most memorable moments your career?
VB: Every moment of my career at Water.org has been memorable. We've reached more than 43 million people in need of safe water or sanitation and the pace of our impact continues to increase. The foundational, innovative work we've accomplished to diversify our partners' lending portfolio, to increase our impact in new markets, and to support national initiatives like Prime Minister Narendra Modi's Swachh Bharat Mission in India are all memorable accomplishments of my career thus far. 
Since becoming Chief Operating Officer at Water.org, the vantage point is not just about our impact, but it is also about the revenue, the management of our finances, the management of human resources and the management of our programs—to witness this organization operate explains how and why we can make such an incredible impact in the world. While the most memorable moment may still be to come, for now I hold many from the last six years of my career.

Q: What are some of the challenges you feel women face today?
VB: I believe that for millions of families in need, a lack of access to safe water underpins the issues that inhibits their path out of poverty, and this challenge affects women and girls the most. When water collection and finding a safe place to go are major activities of their days, women and girls are left with little to no time to choose the life they are fully capable of achieving – one wherein they can get an education, generate income, and create a bright future for their families.
Q: How can people reach you? 
VB: Info@water.org
Five Things About Vedika Bhandarkar

1. What's your favorite thing to do in your free time?
I read a lot. I am also a health enthusiast; I enjoy walking and yoga. I've practiced yoga for fifteen years. 
2. Who is the most fascinating person you've ever met?
I am lucky to meet so many fascinating people, among them, our organization's co-founders. I would say though, Dalai Lama is the most fascinating individual I have had the opportunity to meet. It was so energizing meeting him! I admire the child-like nature of Dalai as he finds simple joys in life. He chooses joy in every moment and every interaction.
3. What was the last book you really got into?
"The Lincoln Highway" by Amor Towles. I appreciate the vivid details and the author's ability to paint a picture for the reader. 
4. What's your favorite international food? 
Japanese – ramen and sushi 
5. Who is your favorite author?
Chimamanda Ngozi Adiche (A Nigerian writer) I've read everything she's written – poetry, essays, novels, stories, and other miscellaneous pieces. Though mostly fiction, her work is deep, and she speaks to topics and issues of my interest like feminism and racism. I love her work.