With a Dynamic Entrepreneurial Work Ethic & An Empathetic, Understanding Soul, She's a Surprising Mixture of Sugar & Spice! Meet Co-Founder & Realtor of Traditions Home Group, Nickole Stark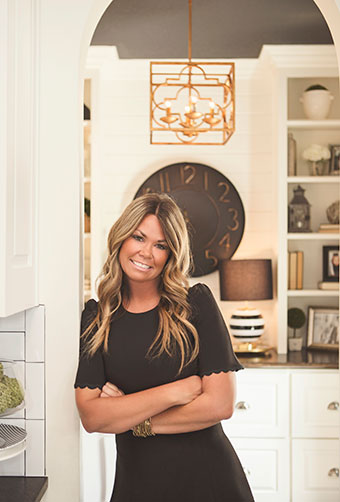 Nickole began her business experience in the tough world of retail. After successfully nurturing, expanding, and selling her retail businesses, she teamed up with her long-time friend, Shannon Stumpenhaus, to establish Tradition Home Group. 

Tackling a new endeavor is old hat to Nickole. While all new businesses are a risk, Nickole met every challenge head on with one goal in mind........to create the absolute best, customer-focused real estate agency. Almost six years later, Nickole and her team currently receive 84% of their annual sales from referral. Her exceptional service, high ethical standards, and dedication to doing the right thing, all of the time, bring clients back, time and time again. Merging the ideas that the client's needs are the priority and communication is essential for success, Nickole prides herself on her ability to listen and problem-solve situations for her clients. Her daily follow-up and strict attention to details are just a few of her strengths that make her a leader in this team and the real estate industry.
Q: When did you realize that you would be a business owner?
NS: I was 23 years old when I started my first business. I always knew that this was something I wanted to do. Both of my parents owned their own business, so it just seemed like my path to follow.
Q: Tell us about the part of your career that was in retail?
NS: I owned boutiques from the age of 23 to 32 years old. I sold my business because it took me away too much from my family.
Q: After you left retail, why did you choose to go into Real Estate? What were your expectations?
NS: I choose real estate because of my current business partner Shannon Stumpenhaus and because I could do this career successfully around my children's wants and needs. My expectations were that in real estate if you work hard you can be successful.
Q: Can you share with our audience what Buyers & Sellers can expect when they work with you?
NS: I think they can always expect me to be 100% honest in what needs to be done with their home to get it sold. That seems simple but it is not always easy to do. They can also expect complete dedication to get them the highest dollar possible.
Q: What are two things that separate you from other agents?
NS: My amazing team and my eye for what the look of the home needs to be for success in a sale.
Q: What was your first job? And how did it shape or impact you?
NS: My first job was when I was 13 years old. I put catalogs together in my mother's warehouse for money towards clothing. I've always loved a great wardrobe! How this shaped me is that my mother was truly the hardest working women I have ever seen. She could do anything and do it well. This was such an inspiration to me. She expected the same out of me and molded me to be this way. 
Q: What's one lesson you've learned in your career that you can share with our audience?
NS: Be transparent. People hire you for your expertise so share this with them. Do your homework so you are always prepared for your job. People want honesty so to give this to them even when it is hard to do.
Q: What are some of the challenges you feel women face today?
NS: I think our challenge is more in supporting each other as women instead of competing with each other in all aspects. Be happy for each other's success, stop the mean girls act. Just be strong, confident independent women. This is something I try to instill into my girls.
Five Things About Nickole Stark
1. Tell us about the best vacation you've ever taken.
My best vacation is always in Scottsdale Arizona with my better half. ☺ I love the warm weather, the shopping, and the food!  
2. What was the last show you binge-watched?
Yellowstone! It is my favorite!
3. Do you have a country you would want to visit?
England, my grandfather was in the Air Force and lived there when my mother and grandmother for quite some time.  
4. Best and worst flavor ice cream?
Best is always chocolate chip! Worst mint chocolate chip
5. What are people often surprised to learn about you?
People always think I am so strong and sometimes even the hard nose partner between Shannon and I, but actually I'm always the first to cry at our proud moments. I'm very sentimental in the way of appreciating my family, my friends, and our accomplishments. I don't stop often enough to soak it in and just enjoy it so when I do it's always emotional. Kind of funny but true.