Her Research Centers on The Intersection of Evidentiary Law & Critical Race Theory. A Conversation With UMKC School of Law Professor, Mikah K. Thompson.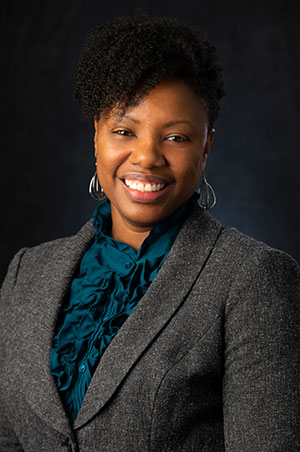 Q: Why did you decide to attend law school?
MT: I decided to become a lawyer when I was just nine years old. Back then, I didn't truly understand what it meant to be a lawyer. Instead, my concept of lawyering was based on the characters I saw on television. The tv lawyers I saw were persuasive courtroom advocates, and I envisioned myself as a courtroom lawyer who would spend my career fighting injustices. Once I made my mind up to become a lawyer, I never looked back.
Q: What expectations did you have after graduating and receiving your law degree?
MT: Upon graduating from law school, I moved to Washington D.C. to work for a large law firm. I was incredibly excited to move from my hometown of Kansas City, Kansas to a large city, but what I learned is that the practice of law can take over one's life, especially in a city like Washington D.C. I routinely worked 12 hours each day, including weekends, and I didn't have much time for a social life. I also missed my family terribly, so I returned to Kansas City just one year after moving to Washington D.C.
Q: What aspects of being a Law Professor interest you the most?
MT: I have worked as a full-time law professor for almost ten years, and the most interesting aspect of working as a law professor is being able to interact with law students on a daily basis. My students are smart, driven, and intellectually curious, and it is my privilege to teach them. The most fulfilling aspect of my job is watching my students as they go from first-year law students to licensed attorneys. Many of my students are serving as judges today, and I couldn't be prouder of my students' accomplishments. 
Q: What types of cases did you handle when you practiced law?
MT: My law license is not active now that I teach full-time. During my years of practice, I specialized in employment discrimination cases. Over the years, I represented individuals who alleged that their employers had engaged in wrongful employment practices. I also represented employers and managers accused of wrongdoing.
Q: Why did you decide to become an Associate Professor of Law at UMKC School of Law?
MT: After several years of practicing law, I decided to pursue a career in academia. I really loved the idea of working at a university because doing so would allow me the freedom to pursue my interests in research and teaching. Also, service to the campus and my community are part of my job expectations as a professor. I love that community service is one of my job duties. 
Q: Which courses of law do you teach? What do you enjoy most about teaching?
MT: I have taught a variety of law school courses over the years. Currently, I teach Civil Procedure, Evidence, Employment Law and Race & the Law. As I mentioned earlier, I enjoy interacting and discussing legal concepts with my students, and I also enjoy advising them on the options that are available to them in the legal profession. 
Q: What's one lesson you've learned in your career that you can share with our audience?
MT: One lesson I've learned is that making any career decision based solely on money is a bad idea. In the past, I have accepted jobs because the pay was good enough to improve my and my family's lifestyle, but each time I made a decision based on money, I found myself in an unfulfilling job. A better approach would be to pursue a job that will make you happy. The money will come if you do that job to the best of your abilities. There is no amount of money that should cause you to sacrifice your happiness and peace of mind.
Q: What is one word of advice you can offer to young women who want to reach your level of success?
MT: For young women who may want to become lawyers and law professors, my advice is that anything is possible. Too often young women are told what they cannot do, perhaps because they will be first-generation law students or because they have work or family obligations. I know many young women who have excelled in law school and the legal profession. What those women have in common is intellectual curiosity, a strong work ethic, a commitment to justice, and a reliable support system. I believe this is the recipe for success in the legal profession.
Q: Which woman inspires you and why? 
MT: I could name a woman who's well-known, but the woman who inspires me the most is my grandmother Amelia. She passed away in the 1990s. My grandmother grew up in the segregated south and cleaned houses for a living. To get to the nicer side of town where she worked, she had to wade through a river. My grandmother did not finish high school, but she was determined to send her children to college. As a result of my grandmother's hard work, five of her daughters attended college and four of them, including my mother, obtained Master's degrees. 
After my grandmother retired, she earned her GED. My mother has a photo of my grandmother posing in her cap and gown at age 60. Whenever I am feeling overwhelmed or exhausted by my work and family responsibilities, I think of how my grandmother probably felt wading through that river each day. I think of her studying to obtain her GED because she valued education just that much. When I think about her experiences, I know that any obstacles I encounter aren't so great. I also think of how proud she would be to know that I play a role in educating future lawyers.

Q: What are some of the challenges you feel women face today?
MT: I feel that all caregivers, many of whom are women, face unique challenges in the age of the COVID-19 pandemic. Caregivers are supervising their children as they attend remote classes and may be working to ensure that their elderly parents are not exposed to COVID-19. They are providing full-time care to their loved ones and also working full-time, either from home or at their place of employment. I believe the challenge caregivers face is finding a way to excel at work while also meeting the needs of their families.
Five Things About Mikah K. Thompson

1. If you could talk to one famous person past or present, who would it be and why?
I would talk to writer and civil rights activist Maya Angelou, who died in 2014. I would tell her how much her writings impacted me as a teenager. Maya Angelou's poetry gave me my first sense of empowerment and pride as a Black woman. Maya Angelou's poetry made me feel beautiful at a time when I was desperately in need of some self-esteem. 
2. Favorite dessert?
My favorite dessert is chocolate cake. The more chocolate, the better. 
3. Who is your favorite Author?
As you might have guessed, my favorite author is Maya Angelou.
4. Who is the most fascinating person you've ever met?
This may seem like an odd answer, but I am most fascinated by my children. They amaze me every day, and I love that I have been able to watch them grow from babies to the smart, funny kids they are today. They bring a great deal of joy to my life, and I'm blessed to be their mom.
5. What's your favorite thing to do in your free time?
My favorite thing to do is spend time with my family. I've been married for 14 years to the love of my life, and I value all of the time I get to spend with him and my children. Our house is full of love and laughter, and when I'm not working, I am watching movies, exercising, or playing board games with my family