She Absolutely Loves Her Job! Providing The Ultimate Home Buying & Selling Experience. Meet Kansas City Real Estate Agent, Stacy Porto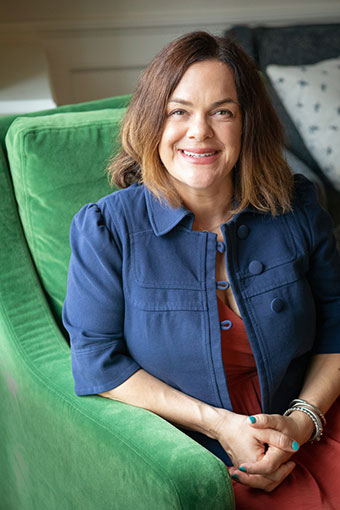 Q: When did you know you would pursue a career as an Attorney?
SP: My oldest brother came to Colorado to visit me in college and helped me drive my car back to Kansas City one summer.  He was studying for a final and I thought it looked really fun and interesting, plus combined with my interest in politics and sociology, it seemed like a great way to help people and get stuff done. I had also always been passionate about the Constitution.
Q: What expectations did you have after graduating and receiving your law degree?
SP: I thought I would be able to help people and change the world. I was incredibly lucky to spend a summer taking a Constitutional Law class on enemy combatants from Justice Ruth Bader Ginsburg. I thought that the consistent feelings of being inspired and challenged during law school would continue into my legal practice, but it didn't work out that way for me.
Q: Were there moments in your career that were pivotal to getting where you are today?
SP: Absolutely. After I worked for the Obama administration, I came back to Kansas City. My mom was planning on moving from our childhood home. I drove around with her one day and called different realtors, but none of them called me back. I had just come back from a very demanding job where I had multiple phones and had to be super responsive at all times, so the lack of a return phone call was baffling. I then decided to get my Realtors license and help my mom.
Q: Can you share with our audience the opportunity you had to work in the White House during 2008-2012.
SP: In 2008, I wrote everyone I knew a letter about how I wanted to work for Barack Obama just in case someone knew him and could pass my information along. This was back in the primaries. To make a long story short, it fell in the hands of someone who knew him, and they gave me a shot at doing what is called advance for then Senator Obama. I literally traveled around in advance of wherever he was going, and helped plan and execute photo opportunities, dinners, meetings, rallies, and even the Democratic Convention and Presidential Inauguration. After President Obama was elected, he appointed me to serve as Civil Rights Attorney at the United States Department of Agriculture, and during that time, I was lucky enough to still travel on the Advance Team for First Lady Michelle Obama.
Q: What led to your deciosn to come back to Kansas City and pursue a career in Real Estate?
SP: I was living in Washington DC but traveling so much for Mrs. Obama that it didn't seem to be worth it to be to pay the rent in DC. I could still work for her from my hometown of Kansas City, so I came back here and traveled with her. I then went out one night and met a man I fell in love with and decided to stop traveling and settle down. That man became my husband and business partner. During this time, my mom decided to downsize, and I decided to help her.
Q: Can you share with our audience what Buyers & Sellers can expect when they work with you?
SP: I am responsive, enthusiastic, and brutally honest. If I think a house is a bad deal or it won't serve you well, you are the first person to hear it. I am also a tough negotiator – yes, I love looking at houses and seeing new ideas and all the amazing neighborhoods across the area, but there is nothing more satisfying than knowing I got you a deal. That is the definition of truly helping someone.
Q: What do you think are the ingredients that keep you as a top Realtor year after year?
SP: I absolutely love my job, so much that it feels weird calling it a job. If you love what you do and care about who you do it for, everything else just follows.
Q: What's one lesson you've learned in your career that you can share with our audience?
SP: My father taught me to always stay true to myself, and to treat others as you want to be treated. This has shaped the person I have become – I try my best to make each real estate transaction an experience rather than just a transaction. I continually stay in touch with my clients, and many of them become close friends.
Q: Can you tell our audience one of your most memorable moments in your career?
SP: I have several. The first is my 1st "million dollar day", where I put two homes under contract which totaled over that amount in sales. Last year, when my son was just 6 weeks old, I had a 5.5 million dollar day. It really made me feel like I could do it all – be a mom, be a realtor, just be anything I ever wanted to be.
Q: Which woman inspires you and why? 
SP: Mrs. Obama has always inspired me, especially with her saying "If they go low, we go high." In real estate, being kind and transparent with other agents isn't only the high road, in my opinion, but it's the only road.
Five Things About Stacy Porto

1. Where is your favorite travel getaway?
Turks and Caicos or Alaska for a dream vacation. If just a few days, you can find me snowboarding in Colorado.
2. What do your Saturdays usually look like?
Wake up, show a house or workout, spend time with my kids, maybe show another house, and then my husband and I try to go out on a date.
3. Do you have a bucket list? If so, can you share a few items?
I want to go to Niagara Falls, Hawaii, Greece, and Croatia. I would love to snowboard in the Swiss Alps. But mostly, I just want to make sure my kids love traveling and adventure as much as I do.
4. What are you most excited about in your life right now?
Cleaning out my freezer and getting rid of stuff.
5. What was your favorite game to play as a child?
Tennis or gin rummy with my dad.